This is a supporting character. This character is not related to Canvas-Ranger.
Yami Ryuzaki (Saki)

Saki's appearance
Personal Info
Real name
Khageswara
Race
spirit
Gender
Female
Date of birth
-
Place of birth
-
Age
-
Laterality
Ambidextrous
Height/weight
171/59
Canvas
-
Faction
-
Division
-
Ability Info
Weapon type
Duel Disk
Weapon name
20-VOSR Dark Virtual
Fighting style
Taekwondo and Virtual Dueling
Pet
Frozen Fitzgerald (her real PET after Trishula from Ryuzaki)
Special ability
Blue Eyes Mind Crush
Berserk mode
-
"........... Hi, duel.............."

Yami Ryuzaki (Saki)'s catchphrase
AppearanceEdit
Yami Ryuzaki (Saki) is Ryuzaki's dark-side. Her outfit so different than Ryuzaki because she wears blue vest, black long sleeves (sometimes wears black tanktop like Ryuzaki) and light blue jeans. Th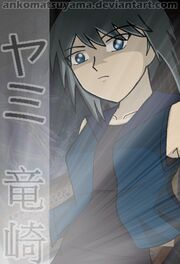 en Saki's deck is very different than Ryuzaki's deck. Her deck's name is "Dark Synchro", a deck with Dark Attribute cards.
PersonalityEdit
Yami Ryuzaki (Saki)'s personality is cool, expressionless, sadistic, and melancolist. She speaks in formal word but always make her partner become confused with her words. Her appearance is so suddenly but she always pops up when Ryuzaki Mutou in labil situation, in Henshin form (although just her right blue eyes), and when Elppa hits her. Ryuzaki's bandaged arm is the location of Saki's true power. Ryuzaki couldn't using that power in real world but just Saki could using it
Yami Ryuzaki could pops up without Ryuzaki Mutou's body and she has new body. Her new appearance is very different and her real name is Khageswara.