This is a supporting character. This character is not related to Canvas-Ranger.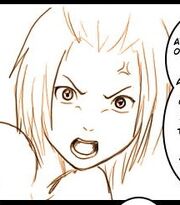 Maya Takahashi (Takahashi Maya) is a supporting character in Canvas-Ranger Universe, tied to Rina. She was a nuclear researcher before transferred to Mobile Medical Team. She is Takashi's wife.
She is short-tempered and easily angered. She seems to be around her twenties, but in reality, she is 32 years old. That's because of her last failure on a radiation test that severely modified her genes, locking her appearance and rendering her unable to give her husband any children.
References
Edit
Rina's Past http://erkaz.deviantart.com/art/Rina-s-Past-PG5-259603798