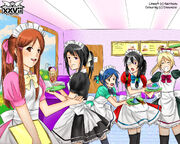 Also known as "Garuda Moe Cafe".
A maid cafe owned by the Hero 27th Division girls, Namika, Ravenia, Kairi, Arlene, and Lonelia. They're also concurrently working there as the maids.
Kairi's mentor, Garuda, often come and glare if he spots someone doing sexual harassment or stare at the girls' body, thus making him the unofficial security there.
It is also said that the cafe's intial funding comes from him (hence why the name).
This article is under construction!

The article you are about to read might not fully represent the final version.
Design and Architecture
Edit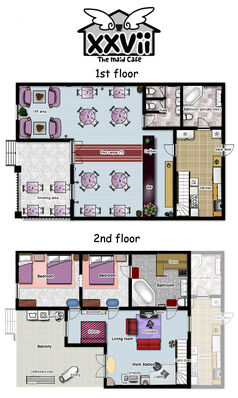 The cafe is build on the first floor of a second-floor building. It has capacity of 40 seat, with 8 seat in smoking area and 8 VIP area. The rest are 8 two-seated table and 4 four seated table. The cafe's floor is coated by light blue carpet and it's wall is lavender, while the ceiling is soft pink, decorated with flat lamps.
Behind the cafe, there's a kitchen, a private bathroom for employees and stairs to second floor.
The second floor is the base of the Hero 27th Division. It contains one living room, two bedrooms, one bathroom and a balcony. There's a workspace in the living room. One bedroom contains a double bed, while other contains two beds, a double bed and a single bed. The balcony is used to do laundry, hanging and ironing washed clothes.
There's a bookshelf in the family room, which is full of yaoi doujins and mangas, most likely Namika and Lonelia's.
As each members already have a home/place to stay, they do not always stay there.
The uniforms consist of a white pinafore apron, a short puffy dress with short puffy sleeve with different colour based on the member's most used colour (Namika being pink, Ravenia being black, Kairi being light tosca, Arlene being red and Lonelia being dark green) and matching long socks, a bow in the chest area also with different colour based on member's second most used colour (Namika being pale yellow, Ravenia being white, Kairi being ultramarine, Arlene being sky blue and Lonelia being dark pink), white petticoat and white frilly headpiece.